Jacob Has a Tooth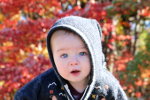 It seems a little odd posting for the first time about my baby son over eight months after he was born. This log simply went into stasis, first being hosted on a server no longer accessible to me, and then effectively neglected for lack of time.
Nonetheless, Jacob Elliot Suwalski was born on January 28th, 2016, and is now about eight-and-a-half months old. While we were out today doing a photo shoot in our colourful autumn surroundings, he became unusually grumpy, and seemed to be in real physical pain. Teething being a real possibility, a quick check confirmed that his first tooth had just broken through the gum. The internet tells me it's his lower left central incisor. He is developing so quickly.
It's a good thing he is well on his way into solid foods.
[
] | posted @ 03:54 |
link