The Canadian Rockies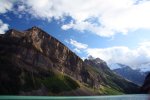 Ah, vacation. For me, they are few and far between. This year's vacation is a trip to the West side of Canada. In particular, the first week is in Alberta and the second in British Columbia.
For the last several days I've been based out of a condo in Canmore. The view out of every window is to looming mountains. We've driven around a lot, having visited Banff, Jasper, the Columbia Icefield, and many mountains in between. I particularly enjoyed Lake Louise (pictured), for its almost stereotypical portrayal of the Canadian Rockies. With generally co-operative weather, being out in the mountains is about as good as it gets.
In a couple of days I may be saying the same thing about Vancouver and its surroundings...
[
] | posted @ 06:09 |
link