Replacement Iron Ring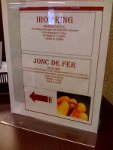 Having lost my iron ring in Cuba last week, I went into uOttawa this morning to pick up a new one. The replacement is very pretty: all shiny and sharply faceted. It will be some time, manual labour, several solvents, and many car panel scratches before it gets properly worn in.
It was interesting that the sign on the counter of the Dean's office managed to add significant insult to the injury. There, right on the sign, was a photo from March 2005 of my original ring. Lifted straight from this blog. I pointed at it and said "I want one of those. Actually, that one is mine." Oy.
For future reference, my pinky is a size six.
[
] | posted @ 17:36 |
link