Boondock Saints Location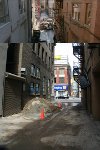 Yesterday, I partook in a quick trip to Toronto. I finally got to try out the Porter service from Ottawa to the Toronto City Airport, on the island right in downtown. It was a "fly-in in the morning, fly-out in the evening" affair, and Porter worked great for that.
On the way back to the airport, I decided to take a quick detour to see if I could find the alleyway used in the movie Boondock Saints. While the movie was supposed to be based in Boston, the big Henry's sign in the background of the alley scene indicated that it was in Canada. A little bit of Google Streetview confirmed that it was in Toronto.
Finding the alley was no problem. The white brick building was recently stuccoed, and the pavement was just being redone. The building closest to the road is actually a Scotiabank.
I was disappointed that the off-shoot alley between the stuccoed building and the bank had a steel door. The door looked like as though it had been there from before the movie was filmed. I was perplexed. Closer examination of the film shows some evidence that the steel door was simply removed for the movie.
I was unable to determine which of the three churches in the area was used for some of the other scenes. It could also have been anywhere else in town.
I enjoy my strange hobby of finding Canadian filming locations.
[
] | posted @ 03:54 |
link