Suwalski Private Reserve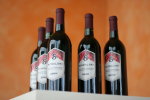 After toying with the idea for quite a while, I went off to one of the local wine-making places and started a batch of Cabernet Sauvignon back in August. After a month, last night was time to bottle the batch and take it home. Thirty bottles is a lot to carry!
I went all-out with the decals. They are a completely original design, printed by colour laser printer on Magna Carta Parchment, lacquered with Future Floor Finish, cut out by hand, and carefully applied with wallpaper paste. They add the little touch that makes this whole project fun.
The wine itself was made with minimal contribution from me. Starting with a kit, I mixed all of the ingredients in a sealed bucket and that was the last I saw of it until last night. Still, it has a decent taste, and the price was fair. Did I mention it was a fun experience.
Next, perhaps I'll attempt a merlot?
[
] | posted @ 01:36 |
link