San Francisco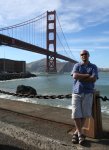 I'm back from the San Francisco area now, so it's time for the tourist stuff. Of course, there is the obligatory Golden Gate photo.
Saturday afternoon and evening there was finally some time to explore some of the city's famous tourist places. I rented a bike and did the trip through Golden Gate Park, over the bridge, down to Sausalito, and a return ferry via Tiburon and Alcatraz.
The bridge is, indeed, much larger in real life than one would imagine from any photo. Standing on its surface, the support columns still reach about 100m overhead. And it's about 50m down to the water. It's massive.
Of course, there are other things, too. The style of houses, steep roads, weather, all contribute to what is uniquely Bay Area. So much of everything. Regarding the weather, I was completely unprepared. It was always cool and windy, but the sun was still always there. My head got a rather bad sunburn. There will be peelage.
As always, it's fun to do a panoramic shot or two. It's a lot easier now that I have a camera with exposure locking. Here is a panoramic shot from the beach area of Golden Gate Park:

Here is a panorama looking out over the ocean:

Initially I was disappointed to be flying back on, and thus missing Canada Day, but in the end it turned out really great. I was landing in Toronto at 22:30, and during the approach I witnessed hundreds of fireworks shows from London, Hamilton, Kitchener-Waterloo, and of course, Toronto, all from the comfort of my airplane seat. It was like little colourful explosions all over the ground. It turned out being the coolest fireworks display I had ever seen.
[
] | posted @ 03:08 |
link