Red-Hot Glass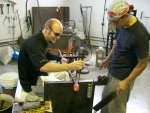 Today was a most interesting day. A colleague here in Taipei offered to take me to a nearby glass museum by the name of tittot. The attractions at the museum included some astonishingly beautiful glass sculptures. The museum proved most interesting to me because it provides workshops in glasswork.
Before I knew it, I was spending my lunch hour working with red-hot, molten glass, blowing myself a pretty juice glass.
What can I say? My life gets less predictable by the day. We'll see how the glass turns out after it exits the kiln in the morning. Maybe it'll warrant a comment along the lines of, "Hey, man, were you stoned when you made that thing?"
[
] | posted @ 15:54 |
link