Another Resin Part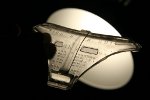 After creating the resin replacement parts for the 1:1000 scale movie Enterprise, I set my sights on the newly re-released Enterprise-D, Picard's ship.
This new re-release is done in clear plastic, making it ideal for lighting. It is overall a great kit, but everytime I see it, the details of the dorsal surface of the neck connecting the two hulls stand out as being inaccurate.
The goal was to correct this issue in a way that others could benefit from. Obviously, the idea was to make a replacement part in clear resin. There are many details that needed correcting, and it is a large part. It took much longer than expected; initially, the part was to be completed by the start of the year. Nonetheless, I'm finally pulling decent castings from the (rather large) mold.
Just a few details left to tie up in terms of decals, instruction sheets, and the web site. But it sure feels good to get a project done.
[
] | posted @ 03:55 |
link