Hot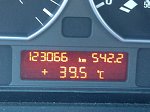 This week in Ottawa we are experiencing a heat wave. It's not at all unusual around this time of year, but the numbers are quite high. Apparently, we haven't had this kind of heat since the fifties. It is strange to have higher-than-body-temperature weather here.
It occurs to me just how much of a temperature swing there is around here. We've had as low as -45°C, and this +40°C seems to be a high. That's a whole 85°C!
The new house has air conditioning, but by then, the heat wave will be long gone. Good thing it has heating, too.
[
] | posted @ 12:47 |
link