Life's a Box (Bowl?) of Chocolates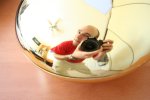 Forrest Gump was on TV last night. I still don't get the whole point of that movie. Is it just simply stating that you don't have to be smart to get through life?
M&M's come in a chrome-gold bowl that makes for a great external equivalent of a fish-eye lens. You can see my entire bedroom in that thing. Somehow, the "box of chocolates" brought that up.
I spent the entire day working on my models. It seems that there is a sort of pattern where I work for a day, then nothing happens for about a week, then something drives me to work another entire day or evening on them. It's peculiar, because it never works out when I plan it.
It has been pointed out to me that my last post, about "gigakliks" is off by several factors. In fact, it does not take into account that a kilometre is already a thousand metres. So, the car has travelled a quarter-gigametre, or a quarter-megaklik. Clearly, my distance away from university is starting to set in...
[
] | posted @ 04:59 |
link