Christmas and Celestia 1.4.0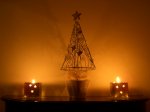 Ah, Christmas: that time of year where we spend money on others to get them stuff we think they need while they do the same in return and invariably no one gets what they want. Except this year. I got exactly I was hoping to get and then more.
First of all, I got people things that I thought would be useful but not consumable, personal but also shareable. So, I got the Muppets Season One DVD set for my sister, the Settlers of Catan board game for my brother, a nice stainless-steel salt shaker and pepper grinder set for my mother, and a Kill-A-Watt power meter for my father. All of these things can be used by the whole family, and the first two are especially fun for everyone.
In return, I got Sensodyne toothpaste from my sister (hey, she's eight!), a bottle of scotch from my brother (interesting, since he's thirteen), and a wonderful 153-piece socket set from my parents.
I haven't felt this good about gift exchange in quite a while, probably because for the first time in several years, I neither gave nor received junk. More importantly, the mood was good, everyone happy. We watched a number of Muppets episodes, played Settlers, and generally had a good evening.
All of this fun is somewhat offset by the release of Celestia 1.4.0. The last few days have been stressful. First, ensuring synchronization of four people in multiple timezones the week before Christmas proved futile, and even led to a few false releases. Perhaps this is not surprising, given that there has not been a release for 16 months. But I was adamant that 1.4.0 be a Christmas present for our thousands of users. Without the need for details, it can be said that the release was definitely bumpy, but still a positive first experience for me. The Christmas release also let me be witty and poetic with the release eMail:
Just in time for testing new video cards that magically appeared under people's Christmas trees, a new release of Celestia is sure to please.
I am so looking forward to the week off.
[
] | posted @ 04:53 |
link