New Wheels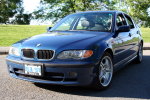 The big news from this week is that I have become the proud owner of a fine product from the Bavarian Motor Works.
Not much to say. It's a metallic blue 2002 330i with sport package. Saw it. Tried it. Liked it. Bought it.
With its 225 horse-power engine, the real challenge will be to learn some restraint and not collect too many speeding tickets. The acceleration on it is rather awesome.
[
] | posted @ 03:42 |
link