Wine Again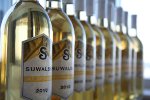 Looks like for the first time ever, I've managed to skip a month. July 2010 just came and went so quickly, I didn't even have a chance to make an entry. For my first summer spent entirely without travel, it sure is amazing just how fast the months fly.
Last night I bottled my first ever white wine. It came from a rather cheap Heritage Estates Sauvignon Blanc kit. At the moment it tastes a little edgy, hopefully it will mellow out over the coming weeks and months. The goal here is to see if a cheap white wine kit can do as well as a cheap red kit; white is more known easy thrills and subsequent headaches.
On the entertainment side, I've discovered two shows that have drawn me in this summer: Californication and Burn Notice. I'm all caught up on the former, still have a couple of seasons to go on the latter.
[
] | posted @ 00:53 |
link