Zanzibar Scuba Diving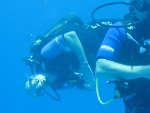 Scuba day! We took a Dhaw-style boat out to Mnemba Island and dove the reef there. The first dive was a there-and-back trip along the reef, while the second was a tidal drift dive. We saw everything we hoped to see except for sea turtles. On board lunch was delicious and the two-deck setup made for fun diving off the stern between the dives. This really is prime diving territory.
On the way off the boat, I cut my foot on a sharp rock by the boat anchorage. I decided to take a long walk to the other side of the island along the beach. The idea was for the saltwater to clean our the wound. In the end, it didn't, buy I learned how much more secluded our side of the island beach was, and how much nicer our water was, too. This means that the larger resorts, like the Hilton, actually have a much less appealing seascape. Our Sazani is not only a deal, but really all around the best choice.
Again, the rest of the afternoon was chill, and we went to a neighboring resort for dinner. It's cool that you can do this, just walk off the beach and explore the resorts. They are all very inviting.