The Real Vacation Begins in Zanzibar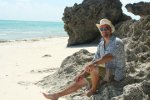 First order of business: check out the scuba situation. Even in the morning, it was too late to book for today, but a solid booking was made for tomorrow to Mnemba Island.
With a free day ahead, we decided to walk along the beach to the lighthouse. Moon was a slim crescent, and tide was high, so it was a fun, if treacherous, walk, with waves crashing up on shore and crabs running all over the place. This was fantastic.
We eventually happened upon the Dutch couple, Yona and Gwen's hotel, and made plans with them. Their place had a shallow salt-water turtle pond, so that provided a bit of amusement. They had sea turtles of all sizes.
The rest of the day we took it easy. This is, after all, vacation. We ate out at a Rasta bar on the beach. This seemed very Jamaican to me, but somehow fit.