Kilimanjaro Day Seven, The Last Little Bit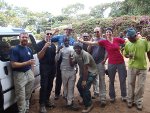 Slept like a baby. The morning wake up and breakfast routine was not unusual, but a little sad in knowing that it was the last one. We will miss the amazing skills of our team to keep us comfortable.
After a three hour hike that became progressively easier, we got to the Mweka Gate, just over 2000m. There was one final view along the way of the mountain; it is notoriously hard to spot from the towns.
Here, it was time to say goodbye to our great team of 26. However, they had one last touch that was greatly appreciated: sparkling wine. Yes, it sounds corny, but it was a celebration, and it was more appreciated than one might imagine.
Then came the long drive back to Karama Lodge in Arusha. There, we enjoyed swimming, relaxation, and a warm shower. Time to unwind and change pace for the next leg of the journey.
Then came an email about our flight to Zanzibar tomorrow being moved up from 14:00 to 10:30... so much for sleeping in...