The Safari Begins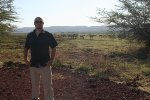 We got up nice and early and headed out on Safari. The goal for the day was to check out the Lake Manyara, as this is on the way West from Moshi to the Serengeti. After getting our packs ready we got introduced to Zamoyoni (Zamo), our guide and driver. Nice guy, great English, drives well, knowledgeable. We stopped to pick up a box of water and drove over through Arusha to the park, about four hours. In there, we saw blue monkeys, baboons, zebra, water buffalo, gazelles and local deer-like creatures, and even a giraffe. Zebras a very graceful and beautiful horses, beautiful as a pack. It was a good way to start, but the lack of sleep coupled with heat made for a tedious day.
The Safari truck is really cool. It is a Tanzanian-modified Toyota Land Cruiser, made longer and more rugged, with a fourth row of seats. The top vaults open to give shade and a view. It is really fun to stand up and take in the wind when it's moving at 60km/h.
The way out of the park was breathtaking. The road climbed and climbed, all with the lake visible in the beautiful colours of the impending sunset.
We get to stay at the Highlands hotel just outside Ngorongoro park. This ends up being a significant upgrade from the initially planned camping. This place is very nice, on the side of a mountain, with very much a small hotel or spa feel to it. The rooms are much nicer (and hopefully quieter!) than Springlands.