The Flight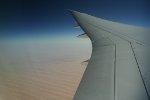 Wake up call at 03:30 for flight at 06:00. The airport was surprisingly busy for a Saturday morning on the US side. Flight to Dulles was uneventful, though the sunrise was breathtaking. In Washington, we found out that flight to Addis Ababa had been delayed by several hours until 15:00. This timing wasn't clear at first, so I didn't have a chance to get out to the Smithsonian to see space shuttle Enterprise. Instead, used free food vouchers and walked around the airport. The flight to Addis was super long. The new Boeing 787 Dreamliner was great, with electronically tinting windows and a wider body. Very quiet and gentle on the takeoffs and landings. It was a little disconcerting, though, how the body is not rigid and is free to twist. The walls would move differently than the seats, which would move differently than the overhead compartments and bulkheads.
The flight, as mentioned, was very smooth, and it was quite a view flying over the Sahara. Nice ripples of sand, with a view of the gently-swept, organically-shaped 787 wing.
The airport in Addis was terrible. One delay after another, and a number of other flights were also like this. The plane was broken, it was hot, they were writing bogus boarding passes by hand. After hours of this, the two remaining messed up flights were merged, so we got back on the 787, and did our flight to Kili with a stop along the way on the coast, in Mombasa. In total, we were late to the hotel about seven hours. Total travel time of about thirty two hours. At least the baggage made it (for most of us).
We've been brought out to the Springlands hotel outside of Moshi. The rooms aren't exciting, but the complex as a whole is nice, very resort-ish. Tried some of the local beers and liked Serengeting the most, getting food into myself was also a positive experience, though I had already had about eight meals since leaving YOW.