Hello 2008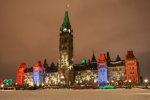 So, 2007 is over. I managed to wrap up everything that needed wrapping up for that year, and I'm ready to take on 2008.
2007 really was a good year. I got to travel a lot, to California, Europe, and Taiwan. I learned a lot along my travels and between them. I think it gives me more of an appreciation for cultural elements I hadn't known anything about. That, in turn, filled a lot of gaps in my understanding of this world. Hopefully there will be more of the same in this coming year.
Last night, we took a family trip out to see the 17 minute firework show commemorating 150 years of Ottawa as the capital of Canada. I took along my tripod and got a bunch of colourful photos. But it also allowed me to finally get a few decent night shots of Parliament and how it looks all lit up.
New Year's was at Markus' during a very good 6-player game of Settlers of Catan.
[
] | posted @ 21:33 |
link