LinuxWorld Toronto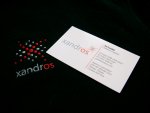 I've been meaning to write about my trip to Toronto for quite a while now; it's been almost two weeks since I was there!
The show, LinuxWorld Expo Toronto, was essentially what I expected; it was a trade show: lots of people trying to sell lots of things. My two talks went alright. I met some familiar people I know from other Linux endeavours. I got to talk to some of our customers. I'm told that attendance numbers were on the low side. Indeed, the second day did seem a little sparse. Regardless of the show, I had a great time. I finally got a business card and corporate shirt! I never thought this day would come!
The real lessons were learned in dealing with our marketing team from various parts of the globe. I learned a lot about how people from different areas of the globe deal with each other. For example, when an Italian was 15 minutes late for breakfast, a German told me that it's normal, to give him another 15 minutes. He sat down in the hotel lobby and pulled out his laptop while I waited impatiently. Perfect estimate to the minute. People who have marketing experience and travel definitely have a lot of wisdom to share.
Speaking of the hotel, Xandros got rooms at the fancy new "One King West," a building that was once a bank. They kept the original vault as a display piece in the lobby. It was very fancy -- so fancy, that they gave full-sized bars of brand name soap! Sleeping on the thirty-first floor was also a new experience. Quite a view from up there. Classy.
[
] | posted @ 03:56 |
link