Mechanically Sound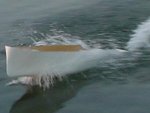 Yesterday was the yearly boat club meet in Merrickville. As always, the location was beatiful, the weather was amazing, and the food great. However, this year, it was my newly-redesigned boat that made me really happy. A general satisfaction, even.
Until now, the boat was overpowered, but technically flimsy: there was always a scratching or squeaking noise, often excessive vibration, to the point that I was scared to push the it to its full speed in case it tore itself apart. And really, it did. That is why I had to rip the prop shafts out in the first place. The photo is from last year, when I first got it up to full speed: it's 117cm, weighs in at 7kg, and draws almost 30A at 12V at top speed... it's a beast.
But now, while still ridiculously overpowered, it is mechanically sound: there are no vibrations, squeaks, or other signs of fatigue. The boat flies as before... but silently...
[
] | posted @ 02:21 |
link