USS Grissom
← WIP Index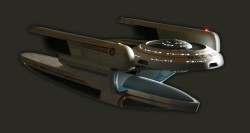 I bought the Sci-Fi Spaceship Miniatures "Survey Class Vessel" model from a fellow CultTVMan mailing list member back in the nineties. The model was originally produced in the eighties, and is probably the best known Star Trek vacuform garage kit.
The build started as a diversion from my Enterprise-D, to test some techniques prior to using them on that model. However, as always, I got carried away with details.
In the end, this attention to detail was well worth it. The model turned out better than I could have imagined when I started.
Photos of the completed build are showcased in the Models Area.