According to the Paramount Studio Group web site, Stage 14 was used for Star Trek: First Contact.
1996: First Contact
While there is no general plan of Stage 14 available for the duration of this production, there are blueprints that show that the Engineering set was on this stage [1].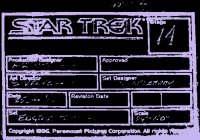 Also, a close-up on the info block.
Stage 14 also contained the various Enterprise corridors seen throughout the film: "And we had a lot of corridor - two full quarter-circles, with a couple of T-intersections and walkways. You could walk for a good five minutes from the engine room set through the Jefferies tubes without ever walking out of the set" [2].
Stage 15, which contained the bridge, is adjacent to Stage 14. The stages are connected via a large door, which essentially converted the two stages into a single large one.